---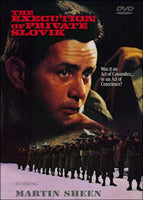 Sale
The Execution of Private Slovik 1974 DVD (Region 1 - Playable in North America - The US, Canada, Mexico, etc.) Color. Beautifully re-mastered print with a new - temporary - lower price!
Starring: Martin Sheen, Ned Beatty, Gary Busey, Matt Clark, Charles Haid, Mariclare Costello, Ben Hammer, Warren J Kemmerling, Paul Lambert, Paul Cedar, Kathryn Grody, Paul Shenar, Bill McKinney. Written by Richard Levinson and William Link, based on the book by William Bradford Huie. Directed by Lamont Johnson.

In January 1945, Private Eddie Slovik was executed in France, the only American soldier shot for desertion since the civil war. General Eisenhower refused to commute the sentence. Based on William Bradford Huie's 1954 book, the movie was finally made for TV in 1974, directed by veteran Lamont Johnson. It attracted a record audience (the largest ever prior to Roots) and is a sombre, sober, unsentimental work about chance fate, the arbitrary horrors of war and people trapped in a bureaucratic machine.
The film unfolds in flashbacks from the day of execution and Martin Sheen gives one of his finest performances as the sad, bewildered young GI, a former petty criminal torn from a brief experience of happiness with his loving wife and sent to war. Ned Beatty is excellent as the chaplain assigned to care for Slovik in his final hours. It can be spoken of in the same breath as Stanley Kubrick's Paths of Glory, and Joseph Losey's King & Country.
*In formerly blacklisted Carl Foreman's classic anti-war film The Victors (1963) - also available here - a wintry firing squad scene inspired by the Slovik affair is accompanied by Sinatra's 'Have Yourself a Merry Little Christmas'.
"