---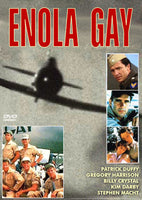 Sale
Enola Gay: The Men, The Mission, The Atomic Bomb 1980 DVD (Region 1 - Playable in North America - The US, Canada, Mexico, etc.) Color.  2-Disc Set. New lower price.

Starring: Gregory Harrison, Billy Crystal, Kim Darby, Patrick Duffy, Robert Pine, James Shigeta.

Well-mounted and exciting history lesson; the decision to drop the atom bomb, the secrecy surrounding the mission, and the men who flew it.  This made-for-TV historical drama chronicles the personal and professional lives of Colonel Tibbets (Patrick Duffy)and the airmen who dropped the atomic bomb on Hiroshima.
The story is based on a book by Gordon Thomas and Max Gordon Witts and also looks at the ways in which the aftermath of the bombing affected their lives.