---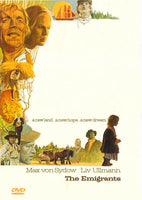 The Emigrants 1971 DVD (Region 1 - Playable in North America - The US, Canada, Mexico, etc.) Color.  Complete & Uncut (This is the original cut of the film, which runs just over three hours. This is the first part of the saga - the second part, The New Land, can also be found at The Movie-O-Zone). Widescreen. Swedish and English.
Starring: Max von Sydow, Liv Ullmann, Eddie Axberg.
Director/writer Jan Troell's expansive saga deals with the Nilsson family, including husband Karl Karl-Oskar Nilsson (Max von Sydow) and his wife, Kristina (Liv Ullmann), who work a farm in a cold and desolate area of rural Sweden in the middle of the 19th century famine. The growing privations of their life, combined with increasing social and religious persecution, cause the Nilssons and many of their neighbors to strike out for the United States and the seemingly idyllic, more fertile fields of Minnesota.With painstaking detail, the director follows the Larsens as they make the perilous (and, to some of their fellow immigrants, fatal) journey by foot, steamer, train, and paddle boat. The film, which originally ran 190 minutes but was pared down to 150 by its director for American consumption, earned Academy Award nominations for Best Picture, Best Foreign Language Picture, Best Screenplay, Best Direction, and Best Actress (Liv Ullmann).
Followed by the sequel The New Land also available here at The Movie-O-Zone!