---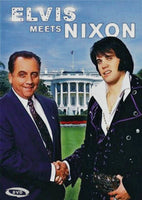 Sale
Elvis Meets Nixon 1997 DVD (Region 1 - Playable in North America - The US, Canada, Mexico, etc.) Color. Rick
Starring: Rick Peters, Bob Gunton, Dick Cavett, Alyson Court. Written by Alan Rosen. Directed by Allan Arkush. New lower price!

You can't make this stuff up.
Elvis Presley (Rick Peters), bored with his confined existence in Graceland, leaves his home on his own for the first time since he was 21. He winds up in California and is convinced by an Anti-war activist that he is responsible for the counterculture through his influence on The Beatles. This convinces Elvis to write a letter to President Nixon (Bob Gunton) asking to be made a "Federal Agent at Large" for the Bureau of Narcotics and Dangerous Drugs. No such position actually exists, but Nixon, wanting desperately to win over the youth of America decides to meet with Elvis in an attempt to improve his image with the "kids". This mockumentary highlights Elvis's real-life trip to the White House and exposes Elvis's humor, drug problem – showing him trying to book a plane flight by himself and even pulling a gun out at a doughnut shop.
Narrated by Dick Cavett. Elvis singing voice provided by Ronnie McDowell.  1997 Color Bonus features.