---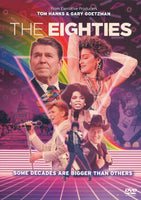 The Eighties (2017) (The 80s) The Complete Series 2-Disc DVD set Color/Black and White (Region 0 - Playable in US, Canada, Mexico, etc.) Beautiful picture and sound. Shown in original 1.78:1 aspect ratio Approx. 5 hr. 44 min. With H.W. Brands, Chris Connelly, Gil Troy, James Baker III and Douglas Brinkley
Produced by Emmy award winning Tom Hanks, Gary Goetzman and Mark Herzog, The Eighties is the third series in the acclaimed documentary strand chronicling American society and popular culture in the later twentieth century.

As the Cold War ended, the world learned of a mysterious virus that defied a cure and triggered a global pandemic. Wall Street brokers became the new rock stars but the economic boom led to material excess and corruption. The personal computer signaled a technological revolution. The music world discovered hip-hop, MTV, Prince and U2, but lost John Lennon. Hill Street Blues, St. Elsewhere and Cheers brought new sophistication to televised storytelling. And throughout the decade, Ronald Reagan left his mark as few public figures do, enjoying unprecedented popularity but also enduring a scandal that nearly derailed his presidency.

This epic series uses rare archival footage and interviews with renowned journalists, historians, musicians and television cast and crew to paint a vivid and compelling portrait of a decade of lasting consequence.

* Raised on Television
Parts 1 & 2
An explosion of new channels and the advent of the VCR transform our viewing habits.

* Video Killed the Radio Star
The digital revolution hits the music world, and MTV is born.

* The Fight Against AIDS
A mysterious illness develops into a pandemic with huge political and cultural consequences.

* The Reagan Revolution
A look at Ronald Reagan's landmark legislative achievements and political setbacks.

* Greed Is Good
Junk bonds, bailouts and Wall Street corruption set the tone for a decade of excess.

* Tear Down This Wall
The appointment of Mikhail Gorbachev triggers an astounding chain of events.

* Technology Gets Personal
The innovations and inventions of the Digital Revolution change life forever.
Also available at the Vermont Movie Store - THE SEVENTIES