---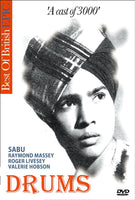 Sale
Drums (The Drum) 1938 DVD (Region 1 - Playable in North America - The US, Canada, Mexico, etc.) Color. New lower price!

Starring: Sabu, Raymond Massey, Roger Livesey. Directed by Zoltan Korda

On the frontier of India, British Capt. Carruthers (Roger Livesey) learns of an illegal arms transport, which leads to a peace treaty with Tokat leader Mohammed Khan. Khan's son, Prince Azim (Sabu), and their people welcome the British warmly, but Khan's brother, Ghul (Raymond Massey), rejects the t

reaty in a bid for power. Azim escapes Ghul's assassination attempt by going into hiding with the British, but takes action when Ghul plans a secret and brutal attack on Carruthers and his men.