---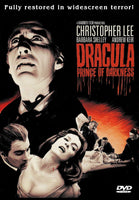 Sale
Dracula: Prince of Darkness 1966 Color. Beautifully restored! Widescreen. DVD (Region 1 - Playable in North America - The US, Canada, Mexico, etc.)
Starring: Christopher Lee, Barbara Shelley, Andrew Keir, Suzan Farmer, Charles Tingwell and Francis Matthews. Directed by Terence Fisher.
Two couples traveling in Eastern Europe decide to visit Karlsbad despite dire local warnings. Left outside the village by a coachman terrified at the approach of night, they find themselves in the local castle and are surprised at the hospitality extended by the sinister Klove. It turns out the owner, Count Dracula, dead for ten years, has been hoping for such a visit.
Bloodthirsty Vampire Lives Again!
"Full of the sensual mysteriousness which Hammer used to achieve so effortlessly during their long occupation of Bray Studios." – Time Out
"This is a text-book example of top-grade ghoulish horror from Hammer's golden era." – Radio Times