---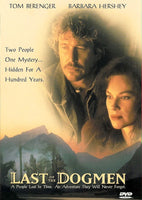 Sale
Last of the Dogmen 1995 DVD (Region 1 - Playable in North America - The US, Canada, Mexico, etc.) Widescreen. Theatrical Release version. Color. Close captioned. Includes special features.
Starring: Tom Berenger, Barbara Hershey, Kurtwood Smith, Steve Reevis.

Modern bounty hunter Lewis Gates is hired to track down three dangerous fugitives who have escaped into the Montana wilderness. When the fugitives are found murdered, Gates has a mystery on his hands. Accompanied by anthropologist Lillian Sloane, Gates ventures further into the mountains and discovers an isolated settlement inhabited by a Native American tribe thought to have been wiped out by white settlers a century earlier. The two gradually begin to gain acceptance within the tribe, but when Gates' vengeful ex father-in-law, Sheriff Deegan, leads a posse into the mountains, Gates and Sloane must prevent the tribe from being massacred a second time.
"A secret lost in time for over 130 years is about to be discovered."
*This version of LAST OF THE DOGMEN differs from our Director's Cut Release version (listed here: https://www.vermontmoviestore.com/products/last-of-the-dogmen-deluxe-director-s-edition) mainly because this Theatrical version has the Wilfred Brimley narration.