---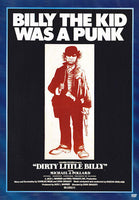 Sale
Dirty Little Billy 1972 DVD (Region 1 - Playable in North America - The US, Canada, Mexico, etc.) Color.  
Starring: Michael J. Pollard, Richard Evans, Lee Purcell.
A more realistic portrayal of the gritty early years of one of the most famous Wild West outlaws in history. After his family moves to a frontier town in Kansas, city-bred teenager Billy Bonney (Michael J. Pollard) finds he has no appetite for farming. He runs away, taking up with local outlaw Goldie (Richard Evans), who operates a saloon in town with the help of a prostitute named Berle (Lee Purcell). The three form a gang of sorts, menacing the locals until the townsfolk collectively decide to drive the outlaws away. Bonney escapes and begins the life of crime that makes him famous as Billy the Kid.