---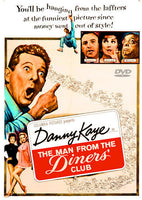 Sale
The Man From The Diners' Club 1963 DVD (Region One Playable in North America – The US, Canada, Mexico, etc.)  Beautiful Black & White. Widescreen (shown in its original aspect ratio of 1.85:1).
Starring: Danny Kaye, Martha Hyer, Telly Savalas, Everett Sloane, Cara Williams, Kaye Smith, Howard Caine, George Kennedy, Jay Novello, Ann Morgan Guilbert, Henry Beckman, Robert Foulk, Ronald Long, Bernie Kopell. Written by William Peter Blatty, John Fenton Murray. Directed by Frank Tashlin.

Meek credit card company clerk Ernest Klenk (Danny Kaye) is feeling the pressure of demanding coworkers, new computers and an upcoming wedding. This stress leads to a big mistake -- the accidental approval of a credit card for mobster Foots Pulardos (Telly Savalas), who is planning to flee to Mexico with his girlfriend, Sugar Pye (Cara Williams), in order to avoid criminal charges. When Klenk tries to fix his mix-up, he gets dangerously involved in Foots' scheme.
"Danny Kaye at his finest!"

" The wildest screen comedy of the year! You'll be hanging from the laffters at the funniest picture since money went out of style! "