---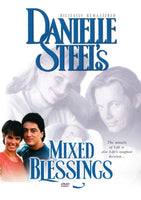 Danielle Steel's Mixed Blessings (aka Danielle Steel: Naissances) 1995 DVD (Region One – Playable in US, Canada, Mexico, etc.) Beautiful picture and sound. Shown in original aspect ratio 1.33:1 Approx. 96 min.
Starring: Bruce Greenwood, Gabrielle Carteris, Scott Baio, Bess Armstrong,  James Naughton, Alexandra Paul and Julie Condra. Based on "Mixed Blessings", a novel by Danielle Steel, Written by L. Virginia Browne and Rebecca Soladay, Directed by Bethany Rooney
Weaving together three stories of couples who want children. Newlyweds adopt a child, an older couple face the risks of having children late in life, and another couple disagree over whether to have children at all.
Diana and Andy Douglas (Gabrielle Carteris and Bruce Greenwood) are a newlywed couple with great careers trying to have a baby for eleven months, without any results. As they visit a doctor, they are crushed to find out that Diana has problems with her ovary and she has a 1 in 10,000 chance to become pregnant. Diana, who always wanted to have a child, considers finding a surrogate mother, but the process proves to be very painful.
Another plot involves Charlie Winwood (Scott Baio), an orphan who, like Diana, always wanted to have children. He is married to Barbie (Julie Condra), an aspiring actress who isn't too enthusiastic to become a mother and has a wandering eye. While she is on a vacation in Las Vegas, Charlie makes a visit to the doctor and finds out he is sterile. However, five weeks later, Barbie announces she is pregnant, which means she cheated on him. Charlie immediately leaves her and later meets Beth (Alexandra Paul), another orphan who is now enjoying her life as a single mother.
The third couple: Pilar and Brad Coleman (Bess Armstrong and James Naughton), an older couple who, after Brad's daughter announces she is pregnant, decide to try to become pregnant as well. Their age proves to be a great obstacle.
Who will realize the joys and pains of parenthood?
"…some top-notch performances…" RadioTimes