---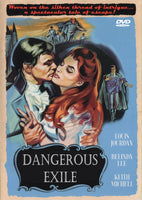 Sale
Dangerous Exile (1957) Region One (Playable in North America – The US, Canada, Mexico, etc.) 93 minutes Color Widescreen Digitally re-mastered.
Starring: Louis Jourdan, Belinda Lee, Keith Michell. Music by Georges Auric. Cinematography by Geoffrey Unsworth. Written by Robin Estridge. Directed by Brian Desmond Hurst.
In post-revolution France, a hot-air balloon lands in Wales with a young boy in tow. Soon the locals discover the mysterious visitor is none other than Louis XVII (Richard O'Sullivan), son of Louis XVI and Marie Antoinette. An American named Virginia Traill (Belinda Lee) attempts to shelter him, but word has been sent to the French revolutionaries and young Louis' life is in danger. His only hope is Philippe de Beauvais (Louis Jourdan), a loyalist who wants to restore Louis to the throne.
Beautifully re-mastered print.