---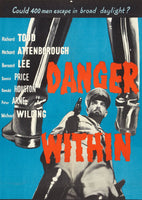 Sale
Danger Within (Breakout) 1959 DVD B&W (Region 1 - Playable in North America - The US, Canada, Mexico, etc.) 
Starring: Richard Todd, Bernard Lee, Michael Wilding, Richard Attenborough, Dennis Price and Peter Arne.
Set in an Italian POW camp in 1943, DANGER WITHIN (aka BREAKOUT) tells the true story of a group of Allied officers trying various methods to escape. One problem: there is an informant in their ranks. But who? Finally they determine to go for broke and make a dramatic mass exit.
Look for an uncredited appearance by Michael Caine.
*Few prints of DANGER WITHIN exist. After an extensive search we found what we believe to be the best surviving elements from a master print in the UK. We are pleased to make this available here on DVD. Quality is not superb – and one should not expect state-of-the-art re-mastered quality - but it is great for those who truly wish to see this wonderful British WWII escape film.