---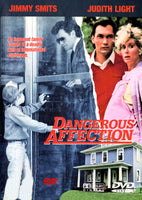 Dangerous Affection (Stamp of a Killer) DVD 1987 Color Approx. 94 min. (Shown in its original 4:3 aspect ratio).  Playable in the US, Canada, Mexico, etc.
Starring: Jimmy Smitts, Judith Light, Audra Lindley, Billy O'Sullivan, Rhea Perlman and Michael Parks. Written by Annabel Davis-Goff, Susan Rice  Directed by Larry Elikann.
Cathy (Judith Light)'s life is already a bit chaotic. She's pregnant and her husband (Billy O'Sullivan) is divorcing her. So, when her son Sam finds a pretty postage stamp, that unbeknownst to them has top secret data superimposed on it, things really get hectic as Cathy and Sam are chased all over town by criminals (Michael Parks). Detective Braden (Jimmy Smits) steps in to help, and a mutual attraction develops between he and Cathy. They trail the killers in a pursuit that culminates when the three get trapped in a house on a deserted country road during an electrical storm. As a madman stalks them, Cathy goes into labor. Also starting the wonderful Audra Lindley and Rhea Perlman.
One detective stands against a ruthless maniac.