---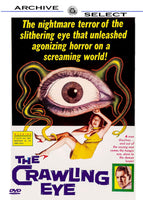 Sale
The Crawling Eye (The Trollenberg Terror) 1958 DVD Beautiful print and sound. Playable in North America - The US, Canada, Mexico, etc. B&W Approx. 84 mins. Presented in the original 1.66:1 (enhanced for 16:9 TVs) widescreen.

Starring: Forrest Tucker, Jennifer Jayne, Janet Munro, Laurence Payne, Warren Mitchell, Frederick Schiller, Colin Douglas, Andrew Faulds, Stuart Saunders, Derek Sydney, Richard Golding, George Herbert, Jeremy Longhurst, Anthony Parker, Leslie Heritage, Theodore Wilhelm, Anne Sharp, Caroline Glazer, Garard Green and Jack Taylor Produced by Robert S. Baker and Monty Berman Written by Jimmy Sangster and Peter Key Directed by Quentin Lawrence
In a small Swiss resort town, sisters Anne (Janet Munro) and Sarah Pilgrim (Jennifer Jayne) are worried by Anne's telepathic sense, which goes haywire. Reporter Philip Truscott (Laurence Payne) and U.N. worker Alan Brooks (Forrest Tucker), who's in the area to investigate unusual radiation levels, also sense something is amiss. It turns out vicious extraterrestrials are living in a radiation cloud in the Alps, brutally killing anyone who comes near and threatening to descend upon the town.
It's looking for you!