---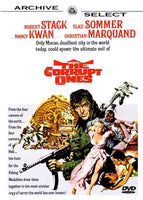 The Corrupt Ones (aka The Peking Medallion) 1967 DVD Color Approx. 88 min. Shown in original 2.35:1 – 16:9 Widescreen in Eastmancolor (Region 1 - Playable in North America - The US, Canada, Mexico, etc.) Beautiful print!

Starring: Elke Sommer, Robert Stack, Nancy Kwan, Werner Peters, and Christian Marquand Written by Harold Bloom and Brian Clemens. Directed by James Hill
Cliff Wilder (Robert Stack), a free-lance photographer on assignment in mainland China, is surprised taking unauthorized photographs and narrowly escapes capture. As he flees to Macao, he is aided by Danny Mancini (Maurizio Arena), a stranger who gives him a small bundle containing "The Peking Medallion", on which is inscribed the clue to a lost fortune. Before he can retrieve the package, Danny is captured and murdered by the Fu Song Tong. Summoned by Police Chief Pinto (Werner Peters) to the city morgue, Cliff is confronted with Danny's corpse, upon which he hides the medallion. He then makes the acquaintance of Lily (Elke Sommer), Danny's former wife, in whom he confides; Tina (Nancy Kwan), leader of a murderous tong; and Joey Brandon (Christian Marquand), owner of an American casino. But will he make it out of Macao alive to tell the tale?
"From the four corners of the earth...From the four corners of Hell...the hunt for the Peking Medallion drew them together in the most sinister orgy of terror the world has ever known!"
One note – the opening titles are in German – over the song "The Corrupt Ones" sung by Dusty Springfield - but the movie is in English!