---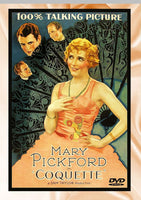 Sale
Coquette 1929 DVD B&W (100% talking picture!) 1hr 16 min (Playable in North America – The US, Canada, Mexico, etc.) Pre-code!
Starring: Mary Pickford, Johnny Mack Brown, Matt Moore, John St. Polis, William Janney, Henry Kolker, George Irving,  and Louise Beavers. Written by: George Abbott (play), Ann Preston Bridgers (play), John Grey, Allen McNeil, and Sam Taylor Produced by: Sam Taylor and Mary Pickford Directed by: Sam Taylor
The object of many a local man's attraction, Norma Besant (Mary Pickford) shrugs off her father's suggestion that she take up with a sophisticated suitor, Stanley Wentworth (Matt Moore), and begins dating unpolished Michael Jeffery (Johnny Mack Brown). A tussle between Norma's new love and her father results in Michael's death. When her father is put on trial for the killing, Norma must decide if she'll tell the truth, or lie to preserve his freedom.
Superstar Pickford won Best Actress at the 1930 Academy awards.