---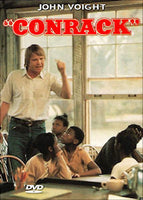 Sale
Conrack 1974 DVD (Region 1 - Playable in North America - The US, Canada, Mexico, etc.) Color. Widescreen. New, lower price (for a limited time).

Starring: Jon Voight, Madge Sinclair, Hume Cronyn, Paul Winfield. 
When Conroy (Jon Voight) arrives on the island and meets his class — a group of kids in the fifth to eight grade — he is stunned to find out that none of them can pronounce his name (they call him Conrack), several can't spell their own names, others can't count to ten, and none of them know that they live in the United States. Mustering every ounce of creativity in his head and every scrap of emotion in his heart, Conrack begins a nonstop strategy of unorthodox ways to arouse in his students a love of learning and life.  But Conrack's unorthodox teaching methods run him smack intro trouble with the disciplinarian black principle Mrs. Scott (Madge Sinclair) and the straight-laced, traditional superintendent Mr. Skeffington (Hume Cronyn). 
Based on Pat Conroy's beautiful and moving book 'The Water Is Wide' about his teaching adventures with the Gullah people of South Carolina.