---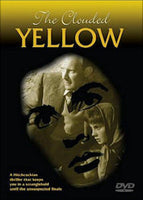 The Clouded Yellow 1950 DVD (Region 1 - Playable in North America - The US, Canada, Mexico, etc.) Black & White. Beautiful print! New, lower price!

Starring: Jean Simmons, Trevor Howard, Kenneth More, Andre Morrell, Barry Jones, Geoffrey Keen, Sonia Dresdel, Richard Wattis, Eric Pohlman . Written by Janet Green. Directed by Ralph Thomas.

Completely uncut in it's full length version, this action-packed thriller ranks alongside Hitchcock's great British thrillers. When ex-spy David Somers takes a low-profile job in the country cataloging a butterfly collection, he finds that dangerous work continues to pursue him. David grows fond of his employer s niece, a fragile, fey young woman named Sophie. When Sophie is framed for the murder of Hick - the spiteful handyman, he becomes embroiled in a murder mystery and goes underground with the beautiful suspect. The fugitives stay one step ahead of the police until the breathless climax.
Starring the Oscar nominated and Emmy Award winning Trevor Howard (Gandhi, The Third Man, Superman) in one of his greatest films alongside the Oscar nominated and Emmy Award winning Jean Simmons (Spartacus, Guys and Dolls, Elmer Gantry) and directed by Ralph Thomas (Doctor in the House).