---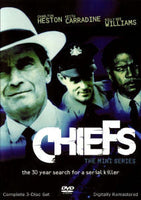 Sale
Chiefs DVD (1983) Region 1 (Playable in North America - The US, Canada, Mexico, etc.) Complete, Uncut Mini-series (274 Min., minus episode recaps). 3-Disc Set. Color. New, lower price - for a limited time!

Starring: Charlton Heston, Keith Carradine, Billy Dee Williams, Wayne Rogers, Brad Davis, Tess Harper, Stephen Collins, Danny Glover.
1924. In the small Southern town of Delano, a series of unsolved murders threatens the delicate balance between the powerful and the powerless. Hugh Holmes is the local politico and kingmaker whose net of power loom over the town. Nothing happens in Delano without his knowledge. Years pass and successive police chiefs hold office. The mysterious unsolved crimes have been swept under the carpet. But, in 1962, the day of reckoning draws near.
One of the most powerful and disturbing miniseries ever brought to television with stellar performances by all.