---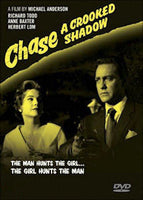 Sale
Chase a Crooked Shadow 1958 DVD (Region 1 - Playable in North America - The US, Canada, Mexico, etc.) Widescreen. Black & White. Beautiful!
Starring: Richard Todd, Anne Baxter, Herbert Lom.
Why has total stranger Richard Todd shown up at the villa of wealthy Anne Baxter? Why does he claim to be her long-lost brother? Is Todd planning to finagle Baxter out of her inheritance? Is someone going to end up seriously dead? The answers to these questions can be found in Chase a Crooked Shadow, a truly brilliant, confounding chiller with more than a few adroit plot twists. Before the film has run its course, we learn that the true villain is not necessarily whom it appears to be--nor is the heroine all that she seems.
Chase a Crooked Shadow was based on an 1943 Whistler radio play; the plot was later reworked into no fewer than three American made-for-TV movies.