---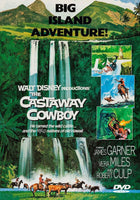 Sale
The Castaway Cowboy 1974 DVD (Region 1 - Playable in North America - The US, Canada, Mexico, etc.) 91 min Color
Starring: James Garner, Vera Miles, Robert Culp, Eric Shea, Manu Tupou, Gregory Sierra, Shug Fisher, Nephi Hannemann, Lito Capina,  Kim Kahana, Lee Woodd, Luis Delgado, Buddy Joe Hooker. Written by Don Tait, Hugh Benson and Richard M Bluel. Directed by Vincent McEveety.

Screen favorite James Garner stars in this family comedy as Lincoln Costain, a mid-19th century Texan cowboy who's shanghaied and placed aboard a ship bound for Hawaii. After he jumps ship off the coast of Kauai, a 12-year-old boy rescues him from drowning. While Lincoln waits for a way to return home, he decides to help the boy's mother's failing potato plantation by turning it into a cattle ranch. But first, he must outwit an unscrupulous businessman, outfight an evil witch doctor and turn the easy-going islanders into ridin' and ropin' cowpokes. So round up your family and say aloha to THE CASTAWAY COWBOY -- and family entertainment at its best!
At one point star James Garner, known for playing tough-guy roles, breaks into song, accompanied by full orchestration. Yee haw!
"A shipwrecked Texas cowhand brings the wild west to an island paradise!"