---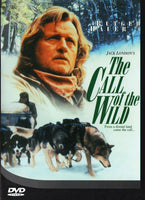 CALL OF THE WILD (1997) DVD Approx. 89 MIN. COLOR (Playable in North America - The US, Canada, Mexico, etc.) Full-frame presentation.
Starring: Rutger Hauer, Bronwen Booth, Charles Edwin Powell, Burke Lawrence, Luc Morissette, Raymond Ducasse, Eric Hoziel, Barry Blake, Robert Pierre Cote, HoJo Rose, John-Dunn Hill, narrated by Richard Dreyfuss. Written by Graham Ludlow and Egerton Ryerson Young based on the novel by Jack London. Directed by Peter Svatek
Jack London's classic tale of the Klondike Gold Rush The Call of the Wild has delighted audiences for almost a century. From the moment we meet the magnificent dog BUCK and his rugged master JOHN THORNTON (Rutger Hauer), we are drawn to follow their inevitable destiny.
Stolen by an evil workman from the warmth and happiness of his family's ranch in California, Buck is beaten into submission by his first owner, then re-sold to a French Canadian guide, Perrault, who takes him to Yukon, where only the fittest will survive.
Soon after arrival, he must confront Spitz, Perrault's fierce and territorial lead dog, learning to kill rather than be killed, and takes his place at the head of Perrault's dog team, delivering mail packages to Dawson City.
There we meet John Thornton, his partner Pete, and Pete's young niece Helen, preparing to seek their fortune in Klondike gold. Maggie, the widowed proprietress of the Eldorado Saloon, and her young son Josh, complete the would-be family -- if Thornton's dream of gold turns into a reality. If not, Maggie must leave, alone, back to California.
When Perrault's partner is killed in a drunken bar-room brawl, he sells Buck and the rest of the dogs to the tenderfoot Charles Clark, who, with his spoiled wife Mercedes and her brother Hal, are searching for their own Klondike fortune.
Buck steadfastly leads Clark's bickering and ill-prepared party on their journey deeper and deeper into the heart of the Arctic darkness.