---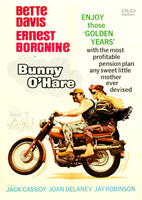 Bunny O'Hare 1971 DVD (Region 1 - Playable in North America - The US, Canada, Mexico, etc.) Color.   
Starring: Bette Davis, Ernest Borgnine, Jack Cassidy.
An aging widow (Bette Davis) in New Mexico is left homeless after the bank forecloses on her property and tears down the house; she chances to meet a retired bank robber still on the lam and asks him to teach her to rob the bank which took her to the cleaners. Soon the pair starts a successful crime spree, and the cops aren't turning a blind eye.

"ENJOY those 'GOLDEN YEARS' with the most profitable pension plan any sweet little mother ever devised!"