---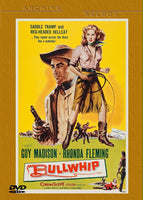 Bullwhip 1958 DVD Color (Region One - Playable in The US, Canada, Mexico, etc.) Widescreen Approx. 76 min. Digitally mastered. Extremely rare.
Starring: Guy Madison, Rhonda Fleming, James Griffith Directed by Harmon Jones.
When a man (Guy Madison) is accused of a crime he didn't commit, he escapes the noose by marrying a feisty and ambitious woman (the beautiful Rhonda Fleming). Although their agreement included him leaving directly after the wedding, he decides to stick around to find out more about the intriguing beauty. And there's a lot to learn…
SADDLE TRAMP AND RED-HEADED HELLCAT...they ripped the West like a bullwhip!
One note: While the print we offer of BULLWHIP is excellent, the opening credits are in German. There are no subtitles and nothing else is in German (or any other foreign language) except the opening credits.