---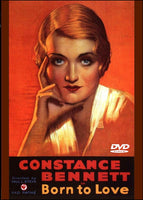 Sale
Born to Love (1931) Pre-code B&W DVD (Region 1 - Playable in North America - The US, Canada, Mexico, etc.) 82 min.
Starring: Constance Bennett, Joel McCrea, Paul Cavanagh. Directed by Paul L. Stein
Doris Kendall (Constance Bennett) is a nurse serving in London in the waning days of the Great War. During an air raid, she runs into fellow American Barry Craig (Joel McCrea) and the two quickly hit it off. They plan to marry after the war, but for the moment, they simply enjoy each other's company. Barry is soon sent to the front. Doris receives a letter that announces that Barry had died on the front. She turns to a long-time friend and admirer, Sir Wilfred Drake (Paul Cavanagh) for comfort. When she realizes she is pregnant with Barry's child, she marries Wilfred, who adopts her child. When Barry reenters the picture, things reach a crisis point quickly.
"Miss Bennett contributes a sincerely moving performance as Doris Kendall, an American girl in a London military hospital." – New York Times