---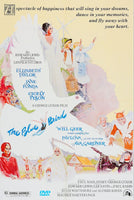 Sale
The Blue Bird (1976) Beautifully re-mastered – great picture and sound. Widescreen Approx. 95 min. (Region One – Playable in US, Canada, Mexico, etc.)
Starring: Elizabeth Taylor, Cicely Tyson, Patsy Kensit, Jane Fonda, Ava Gardner, Robert Morley, Harry Andrews, Todd Lookinland, Will Geer, Mona Washbourne, George Cole, Richard Pearson, Nadezhda Pavlova and Oleg Popov. Written by Hugh Whitemore, Alfred Hayes, Aleksei Kapler  (Based on a play by Maurice Maeterlinck) Lyrics by Tony Harrison Produced by Paul Maslansky Directed by George Cukor.
Mytyl (Patsy Kensit) and her brother Tyltyl (Todd Lookinland) are peasant children who are led on a quest for the Blue Bird of Happiness by the Queen of Light (Elizabeth Taylor), who gives them a hat with a magic diamond that allows them to call forth the souls of all things, both living and inanimate.
On their journey, they are accompanied by the human personifications of a dog, a cat, water, sugar, bread, milk, and fire. They visit the kingdoms of the past and future and the queendoms of night and luxury, at each place absorbing more wisdom. Eventually they discover that the blue bird which they have been seeking, has been in their own backyard all along.
The Blue Bird is an American-Soviet children's fantasy film directed by George Cukor. The screenplay by Hugh Whitemore, Alfred Hayes, and Aleksei Kapler is based on the 1908 play "L'Oiseau bleu" by Maurice Maeterlinck. It was the fifth screen adaptation of the play, following two silent films, the studio's 1940 version starring Shirley Temple, and a 1970 animated feature.