---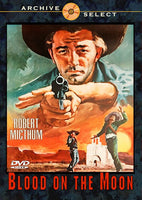 Sale
Blood on the Moon 1948 DVD (Region One Playable in North America – The US, Canada, Mexico, etc.) DVD 88 Mins. B&W (Extra: Photo Gallery) Digitally re-mastered.
Starring: Robert Mitchum, Robert Preston, Walter Brennan, Barbara Bel Geddes, Tom Tully.
One of the best psychological westerns of the 1940s, RKO Blood on the Moon stars Robert Mitchum as itinerant cowboy Jim Garry. Riding into a Texas Indian reservation, Garry finds himself embroiled in a deadly feud between cattle ranchers and homesteaders. He befriends both Amy Lufton (Barbara Bel Geddes), daughter of wealthy cattle man John Lufton (Tom Tully), and smooth-talking mercenary Tate Rilling (Robert Preston). What neither Garry nor Amy realize is that Rilling is a snake, conspiring with crooked Indian agent Jake Pindalest (Frank Faylen) to make off with Lufton's cattle. At first aligning himself with Rilling, Garry finally figures out that his so-called friend is up to no good and casts his lot with Lufton, leading to a bloody showdown.
Based on the novel by Luke Short, Blood on the Moon was given top-grade treatment by director Robert Wise (The Day the Earth Stood Still).
"Just about everything that can and should happen in a Western has been crowded into 'Blood on the Moon'" – The New York Times