---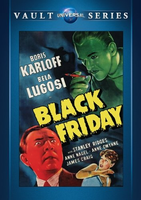 Sale
Black Friday (1940) DVD (Region 1 - Playable in North America - The US, Canada, Mexico, etc.) New Lower price!

Starring: Boris Karloff, Bela Lugosi
The famous Dr. Ernest Sovac's best friend, a bookish college professor George Kingsley, is run down while crossing a street. In order to save his friend's life, Sovac implants part of another man's brain into the professor's. Unfortunately, the other man was a gangster who was involved in the accident. The professor recovers but at times behaves like the gangster, and his whole personality changes. Sovac is horrified but also intrigued, because the gangster has hidden $500,000 somewhere in the city. The doctor continues to treat his friend and, when the professor is under the influence of the gangster's brain, Karloff attempts to have the man lead him to the fortune. Bela Lugosi plays a gangster also trying to get his hands on the cash.