---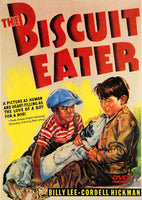 Sale
The Biscuit Eater 1940 DVD (Region 1 - Playable in North America - The US, Canada, Mexico, etc.) Black & White.  
Starring: Billy Lee, Cordell Hickman, Richard Lane, Lester Matthews, Helene Millard, Fred "Snowflake" Toones, Tiverton Invader. Written by Stuart Anthony, Lillie Hayward, based on the story by James Street. Directed by Stuart Heisler.

Two little boys (Billy Lee and Cordell Hickman) have faith in a dog they name Promise (Tiverton Invader), so much faith that they enter him in the championship trials for bird dogs. The favorite is Georgia Boy bred and trained by the boys' fathers. And if Georgia Boy doesn't win, the fathers may both lose their jobs.
A wonderful story for the whole family.
"James Street's Thrilling Saturday Evening Post Story, bought to the screen as a Heart-Warming Story of Youth! Picture As Human And Heart-Filling As The Love Of A Boy For A Dog!"