---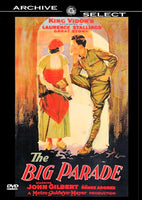 The Big Parade (1925) DVD silent (with inter-titles) Beautifully and lovingly restored. Approx. 151 MIN. Black and white (with tinted sections) Shown in original 4:3 aspect ratio. (Region 1 - Playable in North America - The US, Canada, Mexico, etc.)

Starring: John Gilbert, Renee Adoree, Claire Adams, Hobart Bosworth, Karl Dane. Story by Laurence Stallings. Scenario by Harry Behn. Titles by Joseph W. Farnham. Directed by King Vidor.
The highest-grossing silent film of all time, as well as the first realistic war drama, tells the harrowing story of a young man's (John Gilbert) front-line experiences in World War I.
In 1917, James "Jim" Apperson's (John Gilbert) idleness (in contrast to his hardworking brother) incurs the great displeasure of his wealthy businessman father (Hobart Bosworth). Then America enters World War I. Jim informs his worried mother (Claire McDowell) that he has no intention of enlisting, and his father threatens to kick him out of the house if he does not join. However, when he runs into his patriotic friends at a send-off parade, he is persuaded to enlist, making his father very proud.
During training, Jim makes friends with Southern construction worker Slim (Karl Dane) and Bronx bartender Bull (Tom O'Brien). Their unit ships out to France, where they are billeted at a farm in the village of Champillon, where Jim meets and falls in love with the farmer's daughter, Melisande (Renée Adorée).
The Americans march towards the front and are strafed by an enemy fighter before it is shot down. That night, orders come down for one man to go and eliminate a troublesome mortar crew. Slim gets the honor. He succeeds, but is spotted and wounded on his way back. After listening to Slim's pleas for help, Jim cannot stand it any longer and attempts a rescue - against orders. Bull follows but is shot and killed. By the time Jim reaches Slim, he is already dead. Jim is then shot in the leg. When a German (George Beranger) comes to finish him off, Jim shoots and wounds him. The German starts crawling back to his line. Jim catches up to him in another shell hole, but face to face, cannot bring himself to kill him and instead, gives his erstwhile enemy a cigarette. Soon after, the German dies.
After the battle, Jim is sent to an Army hospital. There he learns that Champillon has changed hands four times. Worried about Melisande, Jim sneaks out of the hospital and hitches a ride. When he gets to the farmhouse, he finds it damaged and empty. Melisande and her mother (Rosita Marstini) have joined a stream of refugees. Jim collapses and is carried off in an ambulance by retreating soldiers.
After the war ends, Jim goes home to America. He tells his mother about Melisande and she tells him to go back and find her.
***
King Vidor's 1925 WWI epic, THE BIG PARADE was one of the most important Hollywood productions from the entire silent era. It put MGM on the map as a prestigious studio, catapulted John Gilbert to major stardom, and set the quality standard for war films in years to come. Made a scant 7 years after the armistice, THE BIG PARADE contains an inherent, honest authenticity that demands respect and admiration from anyone watching it today, 98 years after its release. It's practically like watching a documentary from the time, whether it be the spot-on, chillingly realistic battle vignettes or the sincere, sensitive romantic scenes between John Gilbert and his French sweetheart.