---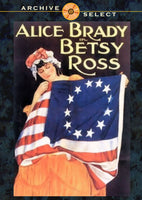 Betsy Ross (1917 – silent) DVD Approx. 60 min. Shown in original aspect ratio 1.33:1 Silent, with interstitial title cards. Region One - Playable in the US, Canada, Mexico, etc.
Starring: Alice Brady, John Bowers, Lillian Cook, Victor Kennard, Eugenie Woodward, Kate Lester, Frank Mayo and George MacQuarrie. Written by Henry A. Du Souchet. Produced by William A. Brady. Directed by Travers Vale and George Cowl.
Betsy Griscome (Alice Brady), against the wishes of her Quaker parents, keeps a tryst with a British officer, Clarence Vernon (Frank Mayo), who promises to marry her upon his return. Clarissa (Lillian Cook), her sister, falls in love and marries Joseph Ashburn (John Bowers), a trader. Suspecting Vernon of duplicity, Joseph and Vernon fight a duel and Vernon is struck down. A year later Betsy marries John Ross (Victor Kennard), and upon his death she operates a little shop for a living. Here she shields her sister, who was driven from home when she could not produce her marriage certificate. Betsy is commissioned by General Washington (George MacQuarrie) to make the first American flag and later is accused of harboring a spy - in reality, her sister's husband.
"The photoplay that every man, woman and child should see!"