---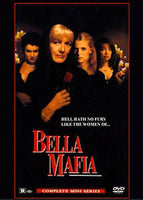 Sale
Bella Mafia 1997 DVD (Region 1 - Playable in North America - The US, Canada, Mexico, etc.) Complete, Uncut Version! Mini-series. Color.
Starring: Vanessa Redgrave, Jennifer Tilly, Dennis Farina, Nastassja Kinski, Tony Lo Bianco.
IMPORTANT NOTE: This is the complete 289 minute version of this miniseries. Other cut-rate versions available elsewhere are the severely edited 120 minute version.)
Beware of black widows. Yes, the complete and uncut mini-series, considered by many to be one of the greatest mafia films ever made. Lynda La Plante (Prime Suspect) scripted this epic offering about the family life surrounding a Mafia don. Sicilian magnate Don Luciano (Dennis Farina) and his wife Graziella (Vanessa Redgrave) live comfortably at Villa Rosa in Palermo, Italy. Their son Michael (Michael Hayden) has an affair with Sophia (Nastassja Kinski), leaving her pregnant but unmarried. After Luciano refuses to traffic drugs, angry U.S. mob boss Carolla (Tony Lo Bianco) retaliates by having Michael killed. When Sophia secretly gives birth to Luka, her child by Michael, she then marries another Luciano brother and bears twins.
Later, Carolla unwittingly adopts the teenage Luka (James Marsden), who is unaware of his own past. Carolla's vengeance continues through the years, and he passes the hatred on to Luka -- who sees that all males in the Luciano family are eliminated. Despite the slaughter, Luca charms the unsuspecting Luciano widows when he arrives at Villa Rosa, claiming to be the son of a wealthy, concerned American. Once the Luciano women (including Illeana Douglas and devilishly delicious Jennifer Tilly) discover Luka's secret, however, they implacably take revenge in the ruthless manner of their age-old code, and the strongest of them becomes the new head of the family, the bella mafiosa. Film director Peter Bogdanovich is seen in the role of Luciano's American contact, Giancamo.
From the producer of The Last Don.