---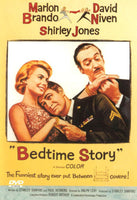 Sale
Bedtime Story 1964 DVD (Region 1 - Playable in North America - The US, Canada, Mexico, etc.) Color Approx. 99 min. Gorgeous print!
Starring: Marlon Brando, David Niven, Shirley Jones, Parley Baer, Marie Windsor. Written by Stanley Shapiro and Paul Henning. Directed by Ralph Levy.
The caddish Freddy Benson (Marlon Brando) enjoys setting up elaborate ruses to seduce women on the French Riviera. Con artist Lawrence Jameson (David Niven) likes to pose as a prince to swindle the wealthy. When the two men meet, each perceives the other as an interloper and a threat. Upon the arrival of vacationing soap heiress Janet Walker (Shirley Jones), the two sweet-talking scoundrels compete to be the first man to trick her out of both her clothes and her fortune.
(Remade in 1988 as "Dirty Rotten Scoundrels" with Michael Caine and Steve Martin and in 2019 as "The Hustle", with Anne Hathaway and Rebel Wilson.)
 Marlon Brando used to say that making "Bedtime Story" was one of the best times he ever had on a movie set. It shows. He delivers a joyful, energetic and fantastically entertaining performance. Watching him play off of David Niven (who is also very good) is so much fun to watch.