---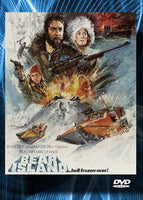 Sale
BEAR ISLAND 1979 DVD (Region 1 - Playable in North America - The US, Canada, Mexico, etc.) 1979 Color Approx. 113 min. Widescreen
New lower price!
Starring: Donald Sutherland, Vanessa Redgrave, Lloyd Bridges, Richard Widmark and Christopher Lee. Directed by Don Sharp.
An intense thriller, based on Alistair MacLean's novel, Bear Island. An international scientific expedition from the UN heads to the barren Arctic Bear Island to study climate change. However, the island was also home to a German U-boat base during World War II, and as accidents begin to accumulate amongst the party, scientist Frank Lansing (Donald Sutherland) realizes that some of his colleagues are after a shipment of Nazi gold aboard a long-lost U-boat.
This new release has been fully remastered and restored.
(The supply of BEAR ISLAND DVDs is very limited.)