---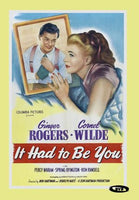 Sale
It Had To Be You 1947 DVD  (Region One - Playable in North America - The US, Canada, Mexico, etc.) 1947 Black and White. Beautifully, digitally re-mastered. (Close captioned with optional English subtitles).
Starring: Ginger Rogers, Cornel Wilde, Spring Byington, Percy Waram. Directed by Don Hartman, Rudolph Mate.

Society girl Victoria Stafford (Ginger Rogers) has a reputation for leaving men at the altar. Getting engaged for a fourth time, Victoria believes she's found the right man -- until she has a strange dream about a Native American who claims that he is her true love. Awakening, Victoria is startled to find the dream man, George (Cornel Wilde), who claims to really exist, while also being a figment of her imagination. Back at home, George guides Victoria to a startling discovery.
But will wedding bells ever ring?