---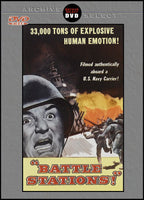 Battle Stations 1956 DVD (Region 1 - Playable in North America - The US, Canada, Mexico, etc.)
Starring: John Lund, William Bendix, Keefe Brasselle, Richard Boone, James Lydon, and Claude Akins. Directed by Lewis Seiler. Black and White. Full-Frame. Approx. 80 min.
A new Roman Catholic Chaplain (John Lund) reports aboard and gets to know the crew of an Essex class aircraft carrier training for action in the Pacific. The Captain (Richard Boone) relentlessly conducts General Quarters (Battle Stations) and Damage Control drills on the crew. This pays off when the ship is attacked by the Japanese. Forty miles off the coast of Japan, enemy aircraft spot the carrier and rain bombs down on the ship. Fire rages above decks and below and many perish. Sustaining horrific damage, the ship survives due to the Captain's training and the ship is able to return home to the U.S.
*Very few prints of BATTLE STATIONS exist. After an extensive search we found what we believe to be the best surviving elements. We are pleased to make this available here on DVD. The quality is not great – and one should not expect state-of-the-art re-mastered quality - but it is a treasure for those who truly wish to see this wonderful WWII Pacific Naval Battle film.