---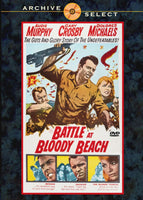 Sale
Battle at Bloody Beach (1961) DVD (Region One – Playable in US, Canada, Mexico, etc.) Shown in full-frame aspect ratio 1.33:1 Black and white Approx. 88 mins.
Starring: Audie Murphy, Gary Crosby, Dolores Michaels, Alejandro Rey, Marjorie Stapp, William Mims and Barry Atwater.
Directed by Herbert Coleman Produced by Richard Maibaum Written by Richard Maibaum and Willard W. Willingham Music by Henry Vars Cinematography Kenneth Peach
Craig Benson (Audie Murphy) is a civilian working for the Navy helping arm and supply guerrilla insurgents in the Philippines. His main purpose, however, is to find his wife Ruth (Dolores Michaels), from whom he was separated by the Japanese invasion of the Philippines. Coming ashore Benson kills two Japanese soldiers who have ambushed his contact Sgt. Marty Sackler (Gary Crosby). The two initially meet guerrillas who act as bandits lead by a renegade American M'Keever (William Mims) who wants the weapons Benson brought. Benson agrees to arm Fontana's guerrilla band and meets a group of American civilians he will evacuate to Australia including his wife Ruth (Dolores Michaels) who believed he had been killed and is now romantically involved with Fontana (Alejandro Rey).
"These were the undefeatables ..."