---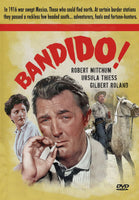 Sale
Bandido (1956) DVD NEWLY REMASTERED, beautiful widescreen Approx. 88 Min. (Region One - Playable in the US, Canada, Mexico, etc.) Color Shown in original aspect ratio 2.35:1 (16:9 enhanced) Beautifully restored print!
Starring: Robert Mitchum, Ursula Thiess, Gilbert Roland, Zachary Scott Cinematography by Ernest Laszlo. Edited by Robert Golden. Music by Max Steiner. Written by Earl Felton (based on his story "Horse Opera"). Produced by Robert L. Jacks. Directed by Richard Fleischer.
An American arms dealer, Wilson (Robert Mitchum), journeys south of the border during the Mexican Revolution and immediately sparks trouble when he provokes federal troops. His actions impress the revolutionaries, whom he joins forces with, and Wilson convinces his new allies to go after a rival arms dealer named Kennedy (Zachary Scott). When Wilson falls for Kennedy's wife, Lisa (Ursula Thiess), and the revolutionaries eventually turn on him, the gunrunner finds himself in the line of fire.
The film was shot on many of the actual battle sites of the 1916 Mexican revolution, the period during which this film is set. Many of the older Mexicans hired as extras in the film were former soldiers of Pancho Villa and others were former government troops who fought them.
"In 1916 war swept Mexico. Those who could fled north. At certain border stations they passed a reckless few headed south... adventurers, fools and fortune-hunters."