---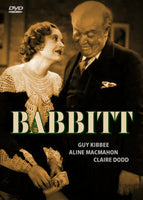 Sale
Babbitt 1934 DVD (Region 1 - Playable in North America - The US, Canada, Mexico, etc.) Black & White. 
Starring: Guy Kibbee, Aline MacMahon, and Claire Dodd.  
 Based on the 1922 novel by Sinclair Lewis, this film follows the life of George Babbitt (Guy Kibbee), a successful businessman, husband, and father of Ted (Glen Boles) and Verona (Maxine Doyle) in the fictional city of Zenith. George's usual cool composure takes a turn as he watches a friend's marriage fall apart. In an effort to protect his family from what might be a threat to their financial stability and comfortable way of life, George engages in a questionable business endeavor.