---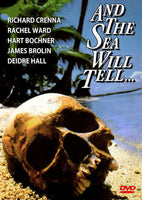 Sale
And The Sea Will Tell 1991 DVD (Region 1 - Playable in North America - The US, Canada, Mexico, etc.) 2-Disc Set. Color. New lower price!

Starring: Richard Crenna, Rachel Ward, James Brolin, Diedre Hall, Hart Bochner, Susan Blakely.
Two couples--one wealthy and married, the other an ex-con and his hippie girlfriend-- separately set sail for a remote South Pacific island, each hoping to play "Adam and Eve" in paradise. Instead of getting away from it all, they take it with them - their pasts and prejudices, and the petty battles over status and material goods that arise from different social classes. Upon lovely Palmyra Island, two couples do arrive, but in 3 months time only one will leave alive. For the couple who get away, one of them has the extraordinary good luck to be defended in court by master attorney Vincent Bugliosi, prosecuting attorney of Charles Manson and author of the classic best selling book "Helter Skelter".
The details are too numerous and mystifying to list but pay close attention, you'll find it not only entertainment, but also a challenge: What really happened? Who did it? This puzzle will haunt you, keep popping back into your mind, long after the movie ends.