---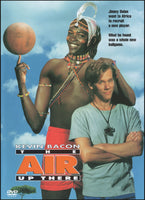 Sale
The Air Up There 1994 DVD (Region 1 - Playable in North America - The US, Canada, Mexico, etc.) Color Widescreen 1 hr. 47 min.
Starring: Kevin Bacon, Charles Gitonga Maina, Yolanda Vazquez, Winston Ntshona, Sean McCann, Dennis Patrick and Mabutho 'Kid' Sithole. Written by Max Apple. Directed by Paul Michael Glaser
Kevin Bacon stars in this sporting underdogs comedy as a high school assistant basketball coach Jimmy Dolan intent on recruiting Saleh, a towering genius of a player, who, unfortunately, is also an African Prince who believes his responsibility lies with his Winabi tribe. As the existing coach is retiring Jimmy is vying for promotion against another assistant, and he needs to get the best team. So Jimmy sets out to convince Saleh that his true destiny lies with basketball. However when he arrives in Africa, Jimmy discovers that the Winabi have acrimonious relations with the neighboring tribe and it appears that the only way to settle all differences is with a basketball match.
Jimmy Dolan went to recruit a new player. What he found was a whole new ballgame.
"Bacon does a solid job, displaying Jimmy's growth toward considering goals higher than the Final Four, and Maina and others exhibit real charm as the tribesmen." - Variety