---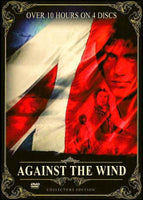 Sale
Against the Wind DVD 1978 TV Mini-Series Deluxe 4 Disc set! (Region 1 Playable in North America - The US, Canada, Mexico, etc.) Complete, Uncut. Color. Excellent.
Starring: Mary Larkin, Jon English, Bryan Brown.
Mary Mulvane, an 18 year old Irish girl, is transported to New South Wales for seven years for doing little else than protecting her own property. She must endure the horror of transport to Australia, and years of misery as a convict. Mary, her friends and her family fight out their battle against a lively historical backdrop - Ireland's 1798 Rebellion, Australia's Castle Hill Rebellion of 1804 and the 1808 Rum Rebellion. With characters and historical settings all based on fact, Against the Wind is a sweeping drama spanning 15 years of Australia's most brutal and violent past.
All thirteen episodes are included in this four DVD set.