---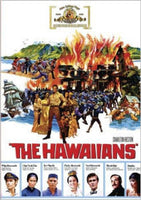 Sale
The Hawaiians 1970 DVD (Region 1 - Playable in North America - The US, Canada, Mexico, etc.) Widescreen. Beautiful print! Color. New, lower price!
Starring: Charlton Heston, Tina Chen, Geraldine Chaplin, John Phillip Law, Mako, Alec McCowen, Don Knight, Miko Mayama, Chris Robinson, Virginia Ann Lee, Lyle Bettger, James Hong, Khigh Dhiegh. Written by James R. Webb from the novel " HAWAII" by James A. Michener. Directed by Tom Gries.

The intertwined lives of two kindred souls with ambition begins when Captain Whip Hoxworth (Charlton Heston) discovers that Nyuk Tsin (Tina Chen) has been smuggled aboard as part of cargo on The Carthaginian, which he captains, a cargo supposed to consist of only male Chinese workers bound for Hawaii. Nyuk Tsin was kidnapped from her Haaka village to be sold to a Honolulu brothel. She is spared when Mun Ki (Mako) claims she is his wife, and Hoxworth goes along with his wife's suggestion that they can work in the Hoxworth household as domestic servants. Nyuk Tsin becomes known to all as Wu Chow's Auntie (Aunt of Five Continents) when her five sons are named after continents (with Mun Ki's wife in China regarded as their official mother). Whip founds an empire in pineapples, using Japanese laborers, after smuggling his first seed crop from French Guiana as Wu Chow's Auntie grows a family business in Honolulu around her sons.

The continuation of James Michener's epic novel, Hawaii (we offer the DVD of 'HAWAII', too).

Nominating for an Academy Award for Best Costume Design and a Golden Globe for Best Supporting Actress Tina Chen.
"The continuation of James A. Michener's epic novel, Hawaii!"