---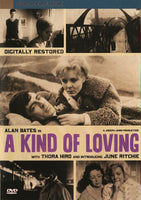 Sale
A Kind of Loving (1962) DVD
(Region compatible - Playable in the US, Canada, Mexico, etc.) Running time 108 minutes Black and White Close-Captioned / Sub-titled Widescreen: 16:9 Beautiful re-mastered print.
Actors: Alan Bates, June Ritchie, Thora Hird, Bert Palmer, Gwen Nelson Director: John Schlesinger Writers: Willis Hall, Keith Waterhouse Producer: Joseph Janni
1962 acclaimed 'Kitchen Sink' drama; A Kind of Loving was adapted from the Stan Barstow Novel of the same name. Directed by John Schlesinger (Darling, Midnight Cowboy), the film stars Alan Bates as Vic Brown, a young draughtsman, whose search for love leads to Ingrid Rothwell (June Ritchie, in her screen debut), an employee in the company. Ingrid quickly falls in love with Vic, only to find herself falling pregnant and Vic reluctantly agrees to marry her. Finding himself forced into a life he never wanted, Vic resents Ingrid and the position he finds himself in. Ingrid ends up losing the baby and Vic, spurred on by the acid tongue remarks of his sour mother in law (Thora Hird) decides to run away.
The Village Voice: "By its end, Schlesinger's debut film plays less like a study of these two people than a guidebook for the millions of miserable newlyweds they represent. Then, movingly, it offers advice about how to make it work."