---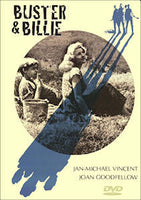 Sale
Buster and Billie 1974 DVD (Region 1 - Playable in North America - The US, Canada, Mexico, etc.) Full Frame. Color.
Starring: Jan-Michael Vincent, Joan Goodfellow, Pamela Sue Martin, Robert Englund.

Georgia. The late 1940s. Buster Lane (Jan-Michael Vincent) is a smart and popular high school senior who is engaged to the prettiest girl in town. Billie (Joan Goodfellow), the local tramp, has had sex with half the boys in school, not always willingly. A frustrated Buster visits Billie one night, and from that tryst a very special relationship grows between the two. When Buster drops his prim and proper girlfriend and begins to openly date Billie, he is shunned by his family and virtually the entire town, save for his albino friend Whitey (Robert Englund, in an early role). What follows is gentle romance, blinding rage, and a haunting legacy that nobody could foresee or forget.
Bring your heart and your hankies.